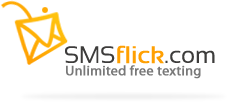 SmsFlick.com provides you with access to send totally free text message (SMS) anonymously from web to mobile phone.
SmsFlick.com is easy to use and smart. With Premium/Super account you will allow to send one message to many buddies at the same time! We called it Mass SMS feature
And at the same time it enables advertisers to reach out to millions of mobile users through the next generation concept of advertising "Adsms" (advertisement via SMS). Advertisement with SmsFlick.com is the best and most personal way to attract people to see the product or service you offer.